The Salvation Army Hosts an Evening of Prayer for Justice and Peace
04 June 2020
The Salvation Army added our voices together in prayer with the many who have been feeling despair, anger, and confusion due to racial injustice.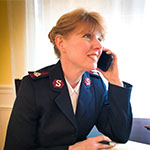 Our Phone Lines and Hearts are Open
04 June 2020
The Salvation Army's Emotional and Spiritual Care HOPEline operates from 9:00 a.m. through 1:00 a.m., EST, 7 days per week, in English and Spanish
The Tuesday Special
30 April 2020
Stephen Henderson, author of The 24-Hour Soup Kitchen, guest posts on his experience cooking during COVID-19 at The Salvation Army in Hudson, NY.
If You Have Hope to Spare, Share it
15 April 2020
If you have hope to spare, share it. Use your stimulus check to help yourself, your loved ones, and maybe even your neighbors.
The Salvation Army Hosts Virtual Food Drive
08 April 2020
As the crises of COVID-19 and poverty continue to collide with each other, The Salvation Army is holding a Virtual Food Drive to fill its food shelves.