27 August 2015
Jill Wishon, executive director of the Hudson Salvation Army Service Center, thought a combination of school supplies and new school clothes would help teen girls build self-confidence and start the school year on the right foot.
In Hudson City School District, there are approximately 200 homeless students. Even more children are at or below poverty level and then there are a number of children in families who are underemployed and doing everything they can to barely make ends meet. Although Jill knows that The Salvation Army is financially unable to reach all of these children in one year, they partnered with the school district to select five students this year and hopefully add students each year.
Along with the school supplies that everyone considers such as back packs, notebooks and pens, Jill was attempting to go one step further for these children. Jill was concerned that in planning back to school events, there isn't always a focus on self-confidence. She said, "If you have the confidence in yourself that you are going to do better in school – if you look and feel like a successful student, then you will be a successful student."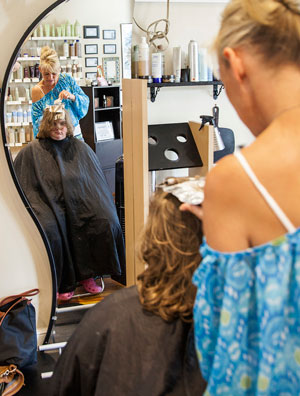 On August 24th, the students began their day at Spalon with Melissa Crosby giving students haircuts that are easy to manage. Melissa has volunteered to take care of trims and touch ups throughout the school year. The day started with getting each girl's hair washed, cut and colored. Jill said they did see a bit of red and purple emerge. Next stop was FACE Stockholm for make-up and skin care. The make-up stylists at FACE Stockholm showed the girls how to care of their skin and donated natural looking make up to take home.
Fashion stylist Jené Luciani accompanied the teens shopping at TJ Maxx, thanks to their gift card donations. Jené recently appeared on Today last Thursday to showcase back to school clothing for kids and teens. She is also the author of The Bra Book.
Jené showed the students what clothes work for them and how to maximize their wardrobe, showing how to mix their new clothes with clothes they already have. Each girl left with multiple outfits for all occasions as well as shoes, sneakers and boots. They were shown how to mix and match the items they had to make multiple outfits.
The day concluded with a "reveal reception" at the Columbia County Chamber of Commerce, where the girls met up with family, friends, social workers, community members and Salvation Army advisory board members to show off their new back to school looks at a reception catered by Sodexo with cookies compliments of Trixie's Cookies.
Jill said, "Sometimes, it really does take a whole community to show our children that we do care. If we can begin the school year right for these five kids then hopefully next year we can add five more. Our intention is to help each child throughout the year as well as annually until they graduate."
As the day began, the girls said they were unsure how they felt about make overs, as they never really had a day where that was all about them. The conversations got around to how they are shunned or bullied at school because of their appearance, their hair "isn't right" and they don't have "cool clothes."
Jill also invited a 14 year old volunteer at The Salvation Army, who asked to be a part of the day because she thought that what the Army is doing is "really cool." Jill said, "She is a kid who really doesn't have to deal with what these girls experience; it was great to see her develop friendships with the other girls."
As they were leaving, Jill heard several comments from the Mom's noting that they "didn't know how they were going to buy school clothes this year," and "we have so many medical expenses right now that there was no way we could do anything for her."
Of course, the best comments came from the girls themselves "I feel beautiful!" followed by big hugs and as Jill said, "this is exactly why we did it, their self-confidence was built, their community was behind them and wanting to help them feel and be successful in school."
All of that was followed up by even more confidence boosting information. Carol Doerfer, advisory board member, and administrator at Columbia Greene Community College, brought bags for each girl with school supplies from the college as well as information as to how they can take college courses while in high school to earn a two year degree at the same time as going to high school and who to contact to do this at no cost!
Hudson District school teacher Karen Antonelli, a 7th and 8th grade science teacher donated LL Bean backpacks filled with all the necessary school supplies for each girl.
Michele Brumsey, development director of The Capital Region came with goodie bags from The Salvation Army too.
What a great way to start the new school year for five lucky students from Hudson City School District!